Onex Group
Microsoft Technology Experts
Specialists for whom work became a passion.
What we do?
For 19 years we have been a publisher of the most popular product portals.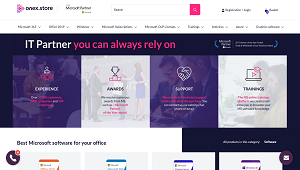 Store
Office 365 and Azure leader
Our strongest point is supplying Office 365 licenses and implementing solutions based on Microsoft Azure cloud.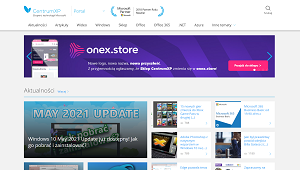 Portal
The most popular Microsoft technology portal in Poland.
For over 19 years, we have been the best source of news from the world of Microsoft software, including Office 365 and Windows 10.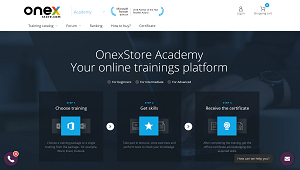 Academy
Microsoft 365 trainings database.
Our training courses consist of over 1000 lectures, over 100 hours of video materials and expert advice.
Why us?
As professional software suppliers and Microsoft technology experts, we provide our clients not only with stable prices and the highest quality of service, but also comprehensive technical support.
Microsoft technology experts

Our team consists of not only professionals, but most of all enthusiasts of Microsoft technology.

A wide offer tailored to your needs

The leading products in our offer are: Office 365 service and Azure cloud solutions.

Security and technical support

We provide full technical support and assistance at every stage of the implementation of our services.

Microsoft technology experts

Our team consists not only of professionals, but above all enthusiasts of Microsoft technology.
Onex Group numbers
Companies renew their software with us
Our competencies
We also provide knowledge about Microsoft software through proprietary in-house and e-learning training. Our competences are confirmed by numerous titles and awards, including the prestigious title of Microsoft 2018 Partner of the Year in the SME sector in Poland. Due to the excellent sales results of Office 365 around the world - we have become the global Finalist of the 2017 Microsoft Partner of the Year Awards. These awards prove our commitment and professionalism in the sale of brand products and spreading knowledge about Microsoft technologies.
We are constantly developing and maintaining the highest quality of services, and what's more - we are constantly expanding our offer with new products. As a professional Microsoft software vendor, we not only guarantee the highest quality of service and the best prices, but also technical support and advice on the selection of a license. As the first Microsoft Partner in Poland, we have launched the automatic sale of electronic licenses, thanks to which the software is delivered at the time of purchase.
Gold
Application Development
Gold
Application Integration
Gold
Midmarket Solution Provider
Silver
Collaboration and Content
Silver
Identity and Access
Silver
Enterprise Mobility Management
Silver
Project and Portfolio Management
Silver
Software Asset Management