Office 2019 Home & Business Trainings Office 2019
valued at

£ 299.99

for free!
£ 152.00
£ 152.00 VAT excluded
---

Free delivery!
Product comparison
License
Users
OneDrive
Exchange Mail
Manufacturer
Language version
License period
Device(s)
License type
Commercial
1
1 TB
50 GB
Microsoft
International
Annual
-
-
Non-commercial
1
-
-
Microsoft
international
Perpetual
1 PC/Mac
ESD
Commercial
1
-
-
Microsoft
International
Perpetual
1 PC/Mac
ESD
Desktop apps
word
excel
powerpoint
outlook
onenote
publisher
access
teams
skype
Online apps
sharepoint
onedrive
exchange
teams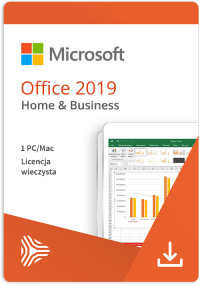 Office 2019 Home & Business ESD
Office 2019 Home & Business is the latest version of the popular Microsoft office suite
It is dedicated to both people who use a computer at home and those working in small and medium-sized companies. The package includes classic applications with many new features: Word text editor, Excel spreadsheet, PowerPoint presentation and animation application, Outlook e-mail program and Microsoft OneNote - the perfect tool for taking electronic notes.
Installation on any computer
Install Office 2019 Home & Business on one PC with Windows 10 or Mac. You can reinstall Office 2019 to another device once every 90 days.
Perpetual license
You don't have to worry about renewing the license every year! This license is a one-time purchase that entitles you to use Office 2019 for as long as you like.
Office 2019 – at onex.store only!
Buying Office 2019 at onex.store, you are guaranteed that you are getting it from Microsoft technology experts! As the only company on the market, we add online training and technical support of our experts.
Advantages of ESD version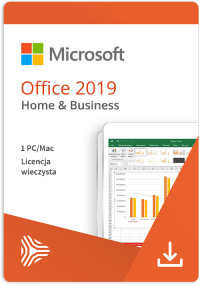 Saving time
The activation key is sent by e-mail within 60 seconds after making a payment (24/7).
Extra benefits
We add an access to online training for FREE.
No shipping costs
The key is delivered via e-mail.
Saving money
When purchasing a digital version, you do not pay for shipping costs.
Office 2019 - well-known applications in a modern version
Try the applications included in the Office 2019 suite
and see how effective your work can become!
Office 2019 Home & Business – FAQ:
What are the differences between Office 2019 and Microsoft 365?

Microsoft Office 2019 is a perpetual license, it only includes desktop applications (Word, Excel, PowerPoint, Outlook, OneNote) and does not include online services. It is licensed for a workstation (1 workstation, PC or Mac). Depending on the version selected, Microsoft 365 also includes on-line services, such as Microsoft Exchange e-mail, Teams messaging, SharePoint, virtual OneDrive and online versions of traditional applications from the Office suite. The Microsoft 365 subscription is limited in time (one month or one year) and must be renewed. The license allows the application to be used by only one user, on 5 workstations (PC or MAC), 5 smartphones and 5 tablets.

How do I create a Microsoft account and why do I need it?

You must create a Microsoft account at

https://www.office.com/setup

. It is necessary to assign your license to it with a key and then download the Microsoft Office installation files.

What is an ESD license?

Microsoft Office 2019 Home & Business ESD

(Electronic Software Distribution) is delivered electronically, i.e. by e-mail, in the form of a key that is used to assign a license to a Microsoft Account once before downloading the installation files. Another model of package delivery is the Microsoft Office 2019 Home & Business BOX version, in which the key is printed on a cardboard box closed in a box, which is sent by courier.

Will I receive a product legality certificate after purchase?

The confirmation of the legality of Office 2019 is the VAT invoice and the entry on the Microsoft Account.

What if I already have a different version of Office installed?

If you have an earlier version of Microsoft Office, uninstall it before installing Office 2019 Home & Business.

Will I be able to choose the language version when installing the perpetual version of Office 2019?

Before installing Office 2019, you will be asked to choose the language version of all that Microsoft Office is available in. In addition, the language of the package can be changed after installation, while using the Office 2019 application.

Does the perpetual license cover any subsequent updates?

When you buy Office 2019 Hoe & Business, Microsoft provides you with the latest security patches. If you are also interested in updating Microsoft Office features, choose

Microsoft 365 Business

.

Can I reinstall Office 2019 Home & Business on the new machine if I change my computer?

Yes, the Office 2019 license can be transferred once every 90 days between PCs and MACs. Just uninstall it from your current computer and install it on the new one.

Does Office 2019 Home & Business run on both PC and Mac?

Yes, by buying one Office 2019 Home & Business license, you have the right to choose the machine on which you install the package: PC or MAC. You can change this selection once every 90 days.

Will I get Publisher and Access with Office 2019?

Do I need to keep my bundle product key?

The key is required only once when assigning a license to your Microsoft Account. Once assigned, the licenses will never be needed again.
Specification
| | |
| --- | --- |
| Device(s) | 1 PC/Mac |
| License | Commercial |
| License period | Perpetual |
| License type | ESD |
| Language version | International |
| Users | 1 |
| Manufacturer | Microsoft |
| Desktop apps: | |